RETURN TO KABUL (e-book)
Autor: Eberhard Mühlan with Georg Taubmann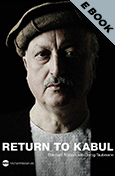 The exciting return of Georg Taubmann to Kabul after being held hostage there and the rebuilding of the NGO Shelter Now.
Sequel to the best-seller "Escape from Kabul"
Only a few months after being held in highly dangerous captivity and his dramatic release, Georg Taubmann was already gathering a team and beginning again – in spite of continuing Taliban attacks and renewed threats of abduction. To provide a background, excerpts from the out-of-print book "Imprisoned in Kabul" (German edition) have been woven into the present story.
In 2018 Shelter Now will be 35 years old. The origins and history of this organisation resemble a detective story – except that it is not fiction but unvarnished truth.

MühlanMedien, Braunschweig
e-book PDF, 264 pages
Shipping as pdf via email!
Preis: 10,00 €
Bestellnummer: 668127
Leseprobe (PDF)
In den Warenkorb